Leading the way in innovative plant-based development.
Here at Andina Ingham, we are very proud of our industry leading partnerships, none more so than our partnership with plant-based, texture expert, Planteneers.
Planteneers is a world leading producer of customised function and texturising system solutions for plant-based alternatives to meat, fish, dairy and deli products.
Since evolving from a unit within Hydrosol GmbH to an autonomous company in 2020, Andina Ingham has been the exclusive UKI agent for Planteneers, working alongside industry experts in plant-based development to revolutionise the market.
Decades of experience from parent organisation Stern-Wywiol and sister company Hydrosol, (a long term partner of Andina Ingham), has positioned Planteneers as a thought leader in the fields of technology and innovation.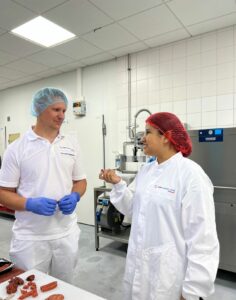 Look no further than their state-of-the-art technology centre in Ahrensburg. With 3,000 square metres of lab space, specialists have access to all the applications, technology and resources they need, as well as plenty of room to test innovative solutions. Built on a foundation of experience and expertise, the Plant-based Competence Centre brings together technology and innovation into a creative pool, 'blazing the trail for tomorrow's nutrition'.
Unveiled in 2019 to focus on the radical growth of the meat-free market, the Ahrensburg Innovation Hub acts as a 'seedbed for innovative food concepts', as well as providing a dialogue platform for customers. Indeed, our partner has revolutionised the customer experience, taking it to the next level with their ability to customise, enquire and test every need.
Through our exclusive partnership with Planteneers, Andina Ingham can offer its customers access to the Planteneers' Lab. Here you can:
Experience the production process on a smaller, more personalised scale.
Experiment and test new technologies in an industry leading production site.
Gain specialist knowledge through access to R&D specialists.
Customise and test existing recipes and develop new ones.
For those companies at an earlier point in their plant-based development journey, our partner offers another solution.
Planteneers' latest development tool, the Plantbaser™ is a digital configurator revolutionising product development. The tool allows manufacturers with no plant-based experience to engage within the market.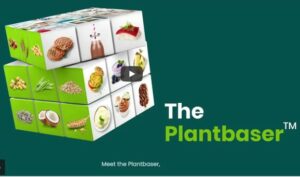 The Plantbaser™:
Simplifies the development process and dramatically reduces production time.
Offers samples within just two weeks.
Allows manufacturers to quickly and easily put together their tailor-made, plant-based end product from various ingredients.
The tool is a revolution – with nothing comparative in the market.
Our partnership with Planteneers works so well due to our mutual emphasis on technical support and expertise. Not only does Andina Ingham offer an in-depth and expansive knowledge of the UK food and manufacturing market, but also technical knowledge and support surrounding texture. In partnership with Planteneers, we consult our customers on the ideal choices and combinations of proteins, as well as on flavouring and nutritional enrichment.
At Andina Ingham we pride ourselves in working with world leading businesses that are like-minded, technologically innovative and are supported by industry leading pilot plant facilities. In this way we can ensure our customers' products are tried and tested in specific applications and help them get to market faster. Fundamentally our partnership with Planteneers offers our customers the support and head start needed to excel in this competitive and fast-moving plant-based market.